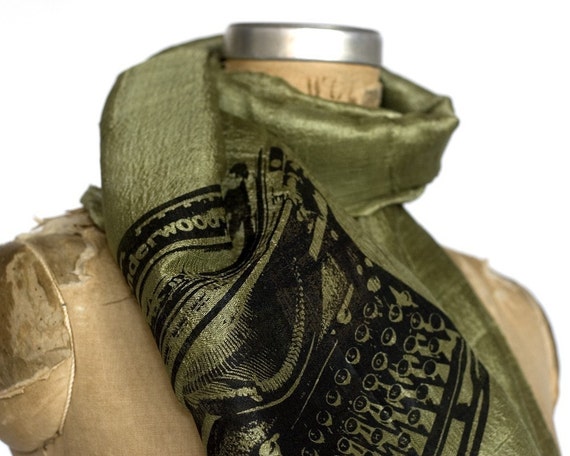 Are you looking for something a bit more unique for that book lover on your list? Well, here is yet another option, check out
Cyperotix
for this great looking Retro-Vintage Typewriter Scarf. This gift allows for the stylish book reader on your list to not only feast their eyes on the printed word, but actually wear a facsimile of this antique form of recreating the printed word. What a perfect gift for those book lovers who like to wear their love of books to let others know just how much they love to read!
Cyperotix describes their Typewriter Scarf as follows:
Underwood manual typewriter in "spring green"! This model is from 1934. The Underwood is an icon of an antique yet truly modern machine. Original illustration from my very own Underwood! Black ink on a spring green scarf.




As it is a big bold print, this design not only works on our ties, but works super well on our hand-woven, Fair-Trade* silk scarves! The entire image of the typewriter adorns the end of this scarf. Just like the ties, we hand-screen them all in our Detroit studio.
Checkout our latest suggestion and let us know what you think of
Gift Suggestion 8
, here at
The Things You Can Read
!
The Things You Can Read!
Believe In Truth, Beauty, Freedom, Love, and the Power of Books!