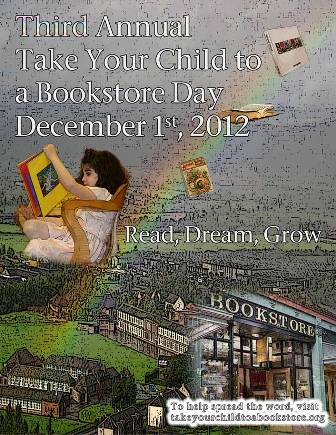 For a third consecutive year, December 1 is
T
ake Your Child to a Bookstore Day
! According to
takeyourchildtoabookstore.org

roughly 400 stores took part in this event last year, and this year they expect the number to be even higher! Many participating bookstores are offering treats, giveaways, and gift certificates, so get in on the experience, and take your child to your favorite bookstore.
For further information on this event, which includes an interactive map of participating stores, head on over to
takeyourchildtoabookstore.org
.
Let us know,
here at
The Things You Can Read
, the name and location of your favorite bookstore, just in case we are in the neighborhood.
Happy Visiting!
Happy Reading!


The Things You Can Read

Believe In Truth, Beauty, Freedom, Love, and the Power of Books!