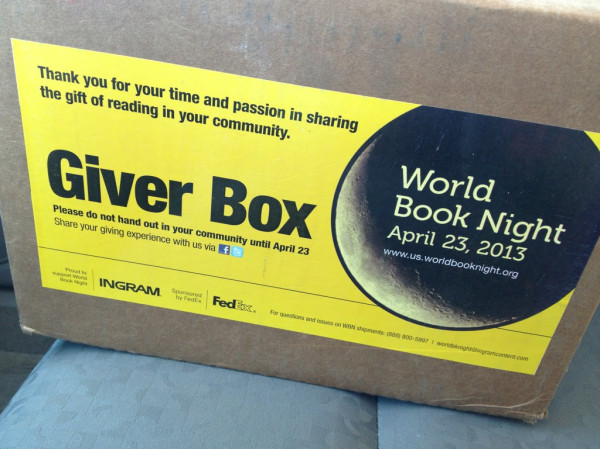 In connection with World Book Night, twenty 7th grades students, all of which were
light readers,
received free copies of
Fahrenheit 451
by Ray Bradbury on the 50th anniversary of its publication. It was our hope that students receiving the book would write a short response sharing their thoughts about the novel, which would then be sent to
worldbooknight.org
and now we have our
second
response!
Here is what
M. E.
had to say about
Fahrenheit 451
by Ray Bradbury:
I found

the book

Fahrenheit 451 by Ray Bradbury very enjoyable. However, it was not an easy read. Thank you for giving me the chance to read this book.
Again, thank you World Book Night for allowing me to reach out to students and foster in them a love of reading!

In Other World Book Night News: As Reported by Shelf Awareness:

World Book Night U.S. reported the following metrics for its second nationwide campaign, in celebration of World Book Night April 23:
32% sales increase, according to Bookscan, on the regular editions of WBN titles for the year to date, excluding new releases.
130 million market reach--those who saw or heard a WBN print, online, radio or TV message this April, up from 35 million for the first year.
607,000 visitors to WBN's Facebook page during the week of April 22, with a Klout score of 75 for the week.

WBN U.S. executive director Carl Lennertz commented: "These numbers attest to the effectiveness of our community/sharing/reading message. We are engaging a deep and broad base of booklovers in passionate dialogue about the power of books, as well as getting the word out to the population at large about the value of reading."
Happy Reading!

The Things You Can Read

Believe In Truth, Beauty, Freedom, Love, and the Power of Books!