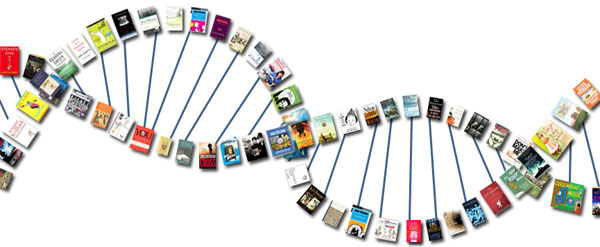 Truth is stanger than fiction, and here is an article to prove it:
Book Written in DNA Code.
In an article published in
The Guardian
some have been quoted as saying that
,"
DNA-Books Could Revolutionize Publishing... Again." How you ask? Well, read the article to find out. You won't believe it
Less than a year after scientists found a way to use DNA to encode the contents of a 53,000-word book (while predicting that a practical application for humans was unlikely in the near future), a Chinese company is rumored to be on the verge of unveiling the first commercially viable DNA-Book serum, capable of injecting the contents of a nearly unlimited number of books directly into customers' brain cells, according to early reports from concerned upstream digital device parts suppliers.-Shelf Awareness
We are not science oriented, but this sounds more like something we'd read in an Orwellian story than in a newpaper. Again, truth is most definately stranger than fiction.
Due in large part to an unexpected plummet in the cost of DNA coding, as well as radical tweaks that solved most of the complications and risks involved while working with living organisms, the DNA-Book may soon be a commercial reality. For an industry already struggling to come to grips with the e-book revolution, an accelerated DNA-Book program raises even greater concerns that it would effectively eliminate the entire publishing industry, placing the future of books in the hands of the scientific and medical communities.-Shelf Awareness
Check out the full article
HERE
. Let us know your thoughts!
Happy Reading!


The Things You Can Read
Believe In Truth, Beauty, Freedom, Love, and the Power of Books!